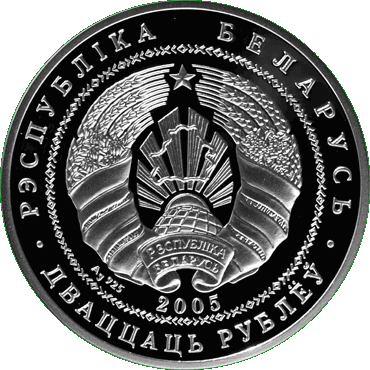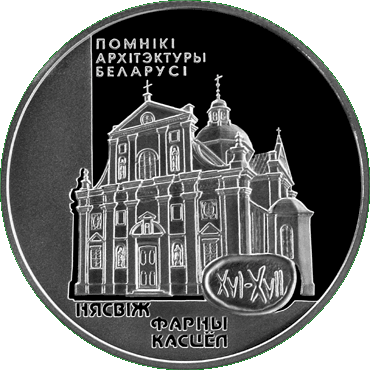 Bildquelle: www.nbrb.by
Die Übersetzung ins Deutsche ist in Vorbereitung
Nyasvizh, the Farny Roman-Catholic Church
Nyasvizh, one of the biggest East European privately owned towns, was granted Magdeburg Law in 1586. Architectural masterpieces of Jan Maria Bernardoni, the Italian architect invited by the Radziwill Family, gave the town the Renaissance appearance typical of the time.
The Town Hall and rows of shopping stalls in the central square that were built in the late 16th -early 17th centuries gave rise to the development of Nesvizh's center. Rows of shopping stalls together with the Town Hall formed a single architectural ensemble whose closed territory had distinct features of a fortification.
In 1584 - 1593, Jan Maria Bernardoni erected in Nesvizh the first Jesuitical Roman-Catholic Church in Belarus (the Christ's Body Roman-Catholic Church, or the Farny Roman-Catholic Church). While following the design of the El-Jesu temple, major Jesuitical order's temple in Rome, the gifted architect gave the building a unique feature that allows us to regard this Roman-Catholic Church as one of the best Baroque architectural monuments. The three-nave vaulted basilica with an extended apse and symmetrical annexes of chapels at both sides is decorated with cascades of pilasters, cornice bands and arch embrasures. Their ensemble lifts up smoothly the temple's dome. The interior is decorated with paintings and frescoes (the most prominent among them are K.D. Heski's works), has magnificent fretwork, wood engraving, original sculptures, and multicolored stained-glass windows. Services in the church have been conducted since its establishment, notwithstanding any natural, military and political cataclysms. The burial-vault of the famous Radziwill Family is also found there.
Text from the official flyer "Nyasvizh" of the National Bank of the Republic of Belarus
Datum : 18.10.2005
Metall : Ag 925
Durchmesser, mm : 38.61
Feingewicht, g : 31.10
Auflage, St. : 2000
Prägeanstalt :
The Mint of Poland PLC., Warsaw, Poland
Design :
S. Zaskjewitch





Ebay-Statistik
(Preise in Euro):
Jahr

Anzahl

Durch
schnitt

Min.

Max.

2006

4

51,94

39,50

56,69

2007

0

0,00

0,00

0,00

2008

1

81,68

81,68

81,68

2009

1

51,99

51,99

51,99

2010

0

0,00

0,00

0,00

2011

0

0,00

0,00

0,00