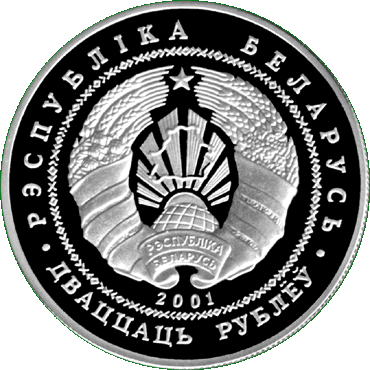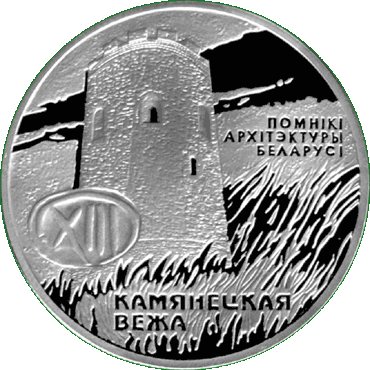 Bildquelle: www.nbrb.by
Die Übersetzung ins Deutsche ist in Vorbereitung
THE KAMENETS TOWER
The Kamenets Tower is the most ancient and unique monument of East Slavic defense architecture. It is also known as the Kamenets Pillar or the White Tower. According to Ipatyev's chronicle, the architect Aleksa built it in 1271—1283 by the order of Knyaz Vladimir of Volynsk as an outpost on the northwest border of his domains.
The outward appearance of the Tower is unusually simple: the top merlon and the belt of figured masonry under it are the only plastic elements of the Tower. The architecture of the Tower is characteristic of many Romanesque and early Gothic elements: arrow-shaped windows, flat semicircular niches, ribbed vaults on weights, and loopholes. The construction makes a great artistic impression thanks to its architectural ensemble and its location on a high hill.
The Tower is five-tiered with slit loophole windows up to 30m high and 13.6m in external diameter; its walls are 2,5m thick. The total area of the Tower floors reached 300m that allowed accommodating a large number of warriors during a defense.
Text from "Банкноты и монеты Национального Банка Республики Беларусь 1992 – 2003" (Minsk 2003)
Datum : 20.12.2001
Metall : Ag 925
Durchmesser, mm : 38.61
Feingewicht, g : 31.10
Auflage, St. : 2000
Prägeanstalt :
The Mint of Poland PLC., Warsaw, Poland
Design :
S. Zaskjewitch





Ebay-Statistik
(Preise in Euro):
Jahr

Anzahl

Durch
schnitt

Min.

Max.

2006

3

61,95

53,03

78,82

2007

0

0,00

0,00

0,00

2008

0

0,00

0,00

0,00

2009

3

49,46

33,50

65,79

2010

2

63,25

48,50

78,00

2011

1

53,92

53,92

53,92