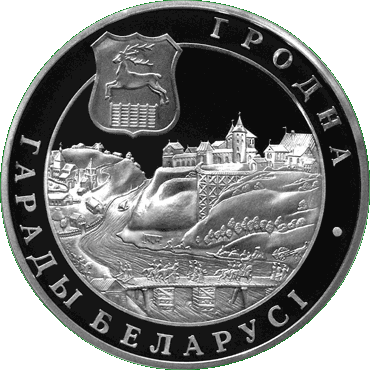 Bildquelle: www.nbrb.by
Die Übersetzung ins Deutsche ist in Vorbereitung
GRODNA
Grodna, also Hrodna (ancient names - Garadzen, Garodnia) lies on the Nyoman river. Although first mentioned in the chronicles in 1127, archeological research revealed that a permanent settlement on the so-called Castle Mount, which overlooks the confluence of the Garadnichanka and Nyoman rivers, existed as far back as the 10th century. For some time, in the area inhabited by the Baltic tribes and later colonized by the Dregovichi and Volhynia, there was the appanage principality of Grodna that became part of the Grand Duchy of Lithuania in the mid - 13th century.
The history of the city is rich and glorious. From 1283 through 1393 Grodna was many times raided and besieged by the knights of the Teutonic Order. The citizens resisted crusaders courageously and not unsuccessfully. Moreover, the indefatigable invaders were terrified for about a quarter of a century by the legendary Davyd of Grodna himself. In 1376, the city was taken over by Vitautas the Great and became the second official capital of the Grand Duchy of Lithuania and subsequently a major center of the Polish-Lithuanian Commonwealth (the Union of the Grand Duchy of Lithuania and the Kingdom of Poland). Stephen Bathory, a king of Poland and grand duke of Lithuania, made Grodna his official residence in 1579 and soon after it was granted the royal town status, which was retained until 1795 when Stanislaw August Poniatowski abdicated. Furthermore, since 1444 the city enjoyed greater autonomy based on the Magdeburg Law and used its own coat of arms beginning from 1540 — in a blue field, a deer with a golden cross between its horns jumping over the fence.
As far back as the mid-12th century, Grodna developed a distinctive architectural school of its own. Its most remarkable architectural monuments are the church of Sts Boris and Gleb (another name - Kalozhskaya church) that has been preserved to our time almost intact, and, in a sense, the Old Castle, whose exterior, however, has since undergone numerous reconstructions. Among the medieval religious buildings that have escaped destruction and have survived in pristine condition are architectural ensembles of the Roman Catholic churches and cloisters (16th-18th centuries) as well as the New Castle complex, which has been radically reconstructed in the mid-20th century. One cannot but mention that in the 18th century there were a mint, big publishing house, and printing-works in the town. Incidentally, since 1673 each third Sejm of the Commonwealth was to be held in Grodna.
Today Grodna is a big administrative, industrial, and cultural center. Biographies of many Belarussian, Polish, and Lithuanian outstanding sons and daughters are associated with its name. Among them, in addition to those mentioned above, are in the first place A. Tyzengauz, E. Azheshka, V. Urubleusky, M. Bagdanovich, B. Tarashkevich, V. Taulaj, A. Makayonak, V. Bykau and many others.
Text from the official flyer "Grodna" of the National Bank of the Republic of Belarus
Datum : 28.09.2005
Metall : Ag 925
Durchmesser, mm : 39.00
Feingewicht, g : 31.10
Auflage, St. : 2000
Prägeanstalt :
RSE "The Kazakhstan mint of NB RK", Ust–Kamenogorsk, Kazakhstan
Design :






Ebay-Statistik
(Preise in Euro):
Jahr

Anzahl

Durch
schnitt

Min.

Max.

2006

6

53,60

40,50

66,66

2007

2

87,22

77,89

96,55

2008

5

71,79

56,13

87,13

2009

3

52,57

48,70

58,00

2010

4

55,02

46,09

65,00

2011

0

0,00

0,00

0,00