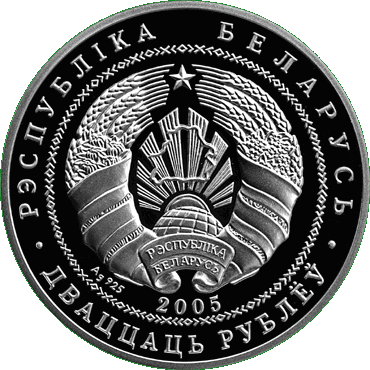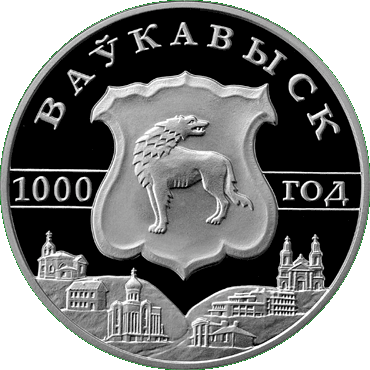 Bildquelle: www.nbrb.by
Die Übersetzung ins Deutsche ist in Vorbereitung
VAUKAVYSK
Vaukavysk (Volkovyesk) is one of the most ancient Belarusian towns and, evidently, the oldest town of the Nyoman river basin in Belarus. Joseph Tryzna, superior of the Kievan Caves Monastery during 1647-1656, first mentioned Vaukavysk in 1005 in his manuscript hagiography.
According to a popular legend, Vaukavysk took its name from Volak and Vysek, the leaders of the gangs that were operating in the area as far back as the 8th century. Prince Vacislau Zabeyka had them hanged and then ordered the building of 10 huts at the site where robbers took shelter, thus laying the foundation of the future town. In commemoration of these events the settlement was named "Volaka - Vysk". According to other sources, it was named after the Vaukavya river that flows through the town into the Ros river, the left-hand tributary of the Nyoman. The river was given its name because of many wolves that inhabited impassable thick forests on its banks in the olden days.
The ancient history of Vaukavysk is associated with three heights of its archaeological complex. These are the stronghold "Swedish mount", the Castle hill and the settlement of Muravelnick. The studies undertaken by archaeologists evidence a high level of different crafts (iron processing and bone carving, in particular) and external trade contacts with the Dnieper basin and Valhynia.
Because of its convenient geographic position - Vaukavysk is situated on the portage route that linked the Dnieper, Western Bug and Nyoman basins, - the town frequently changed hands during wars. In the 13th century, the dukes of Galicia-Valhynia and Lithuania were fighting to establish their control over it. Beginning in the 14th century, Vaukavysk became part of the Grand Duchy of Lithuania. In 1410 the Teutonic Knights captured it and set to fire. Vaukavysk was a district center of Navagrudak vaivodship since 1507 and enjoyed the Magdeburg Law since 1503. During wars in the mid-17th and early 18th centuries it was burnt down many times. As a result of the third partition of the Polish-Lithuanian Commonwealth in 1795, the Russian Empire incorporated it as a district center. During the Patriotic War of 1812 it was occupied by Napoleon's troops from June to November and destroyed.
Following its reconstruction, Vaukavysk developed into a major railway junction in the early 20th century, not for long, though. During World War I it was invaded by troops of the Kaiser's Germany. When the borders were shifted eastwards after World War I, the entire western part of Belarus, including Vaukavysk, was incorporated into the Polish state (as a district center of Bialystok vaivodship). Beginning in the late 1939, it was the center of Vaukavysk district of the Byelorussian Soviet Socialist Republic.
From June 1941 to July 1944 Vaukavysk was occupied by the Nazi troops. By the time of its liberation, 80% of the town was destroyed. But creative post-war labor resulted in its reconstruction and intensive growth. Modern Vaukavysk is a large cultural and industrial district center.
Text from the official flyer "VAUKAVYSK" of the National Bank of the Republic of Belarus
Datum : 31.10.2005
Metall : Ag 925
Durchmesser, mm : 38.61
Feingewicht, g : 31.10
Auflage, St. : 2000
Prägeanstalt :
The Mint of Poland PLC., Warsaw, Poland
Design :
S. Zaskjewitch





Ebay-Statistik
(Preise in Euro):
Jahr

Anzahl

Durch
schnitt

Min.

Max.

2006

5

53,11

38,50

65,64

2007

2

67,93

66,49

69,37

2008

0

0,00

0,00

0,00

2009

1

96,00

96,00

96,00

2010

1

60,00

60,00

60,00

2011

0

0,00

0,00

0,00