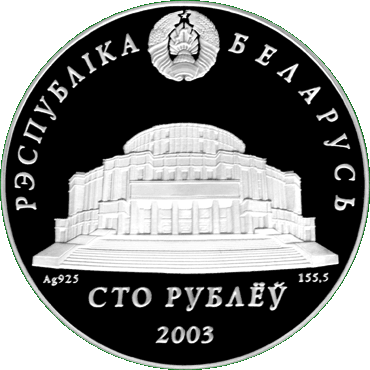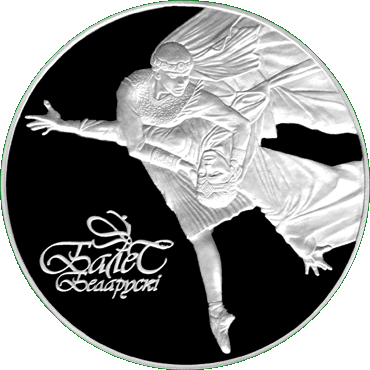 Bildquelle: www.nbrb.by
Die Übersetzung ins Deutsche ist in Vorbereitung
BELARUSSIAN BALLET
In many countries Belarus is known only thanks to its ballet which is the pride and national property of our republic. Its success is not accidental and to a certain extent is due to an excellent school and established traditions.
As regards their repertory, artistic styling of performances, and artistic staff, first ballet companies and ballet schools in the history of Belarus were similar to the ballet troupes of court theaters in Western Europe and Russia.
"We know from description, notes, and papers that performances given at count S. Zorich's estate in Shklov by serf actors were superior in splendor to Russian, ...Polish court performances, Austrian performances in Schönbrunn, and French in Versailles," that is what V. Sakhnovsky, director and researcher of the Russian theater, wrote.
Natural gifts of Belarusian actors as well as a high professional level of the ballet was proved by placing in the 18th Century of the ballet troupe of the Shklov court theater at the disposal of the St. Petersburg's Imperial Theaters Directorate. Later on, actors from Thisenhaus's, Zorich's, and Radziwill's theaters formed the backbone of the Bolshoi and Mariinsky theaters' companies, whilst graduates of the Grodno and Slonim ballet schools set up "His Royal Majesty Dancers Partnership" in Warsaw.
The upsurge experienced by Belarusian Choreography art today makes art experts and theater-goers speak of a revival of glorious Choreography traditions Belarus enjoyed in the past centuries.
Constant 'sold out' notices are characteristic not only of the first nights but also of ordinary productions of all the ballet performances given by the National Academic Bolshoi Ballet Theater of the Republic of Belarus. Selling the house is a costly thing and requires enormous effort - organizational, administrative, financial, and, above all, artistic and aesthetic.
At first, many people perceived creative work of Valentine Yelizariev, chief choreographer of the National Academic Bolshoi Ballet Theater of the Republic of Belarus since 1973, as a bold experiment. The young choreographer was creating his aesthetic principles, new reality, and own world.
The first 15 years of master's work proved to be most fruitful - virtually every year saw a first night: Carmen Suite (1974), Creation of the World (1976), Till Eulenspiegel (1978), Spartacus (1980), The Nutcracker (1982), Carmina Burana (1983), Bolero (1984), The Rite of Spring (1986). In each his fresh ballet, Yelizariev was discovering new expressive potential for the art of choreography.
Later on, intervals between first nights become longer - Romeo and Juliet (1988), Don Quixote (1989) - which made it possible for skeptics to say that the master was going through a crisis in his work. However, production in 1995 of the national ballet Passions (Rogneda) set to music by A. Mdivani which appeared six years after the previous first night not only became an outstanding event in cultural and social life of the republic, but was also awarded a great deal of various prizes in the field of choreography, the most prestigious being the 1966 international Benois de la dance in Paris - the world's ballet Oscar.
Response to Passions from world experts on arts was not unequivocal causing disputes among them. But it is this sort of assessments that arouses interest in true art. Yelizaryev brought the Belarusian ballet to the world stage winning it fame and recognition. When asked about the reasons for success, the manager and artistic director of the theater Valentine Yelizariev says: "I have a lot of talented colleagues responsible for the world renown of Belarusian ballet... Proficiency and work of the ballet troupe are valued at their true worth..."
Datum : 22.09.2003
Metall : Ag 925
Durchmesser, mm : 64.00
Feingewicht, g : 155.50
Auflage, St. : 1000
Prägeanstalt :
CJSC "Lithuanian Mint", Vilnius, Lithuania
Design :
S. Zaskjewitch





Ebay-Statistik
(Preise in Euro):
Jahr

Anzahl

Durch
schnitt

Min.

Max.

2006

1

318,85

318,85

318,85

2007

0

0,00

0,00

0,00

2008

0

0,00

0,00

0,00

2009

1

500,00

500,00

500,00

2010

2

432,61

330,21

535,00

2011

0

0,00

0,00

0,00