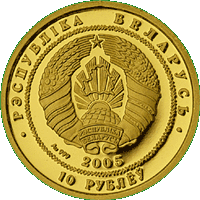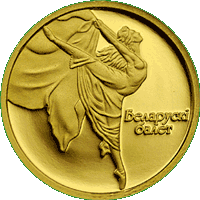 Bildquelle: www.nbrb.by
Die Übersetzung ins Deutsche ist in Vorbereitung
BELARUSIAN BALLET 2005
In discussing the development of the Belarusian ballet, one cannot but pay attention to the stages of its making. In his first production - Carmen Suite - in 1974, Valentin Yelizariev identified the principal criteria of his vision of modern choreography and development of classical ballet. This was followed by Creation of the World (1976), Till Eulenspiegel (1978), Spartacus (1980), The Nutcracker (1982), Carmina Burana (1983), Bolero (1984), Rite of Spring (1986), Romeo and Juliet (1988), Don Quixote (1989), and, finally, famous Passions (Rogneda) in 1995.
There was much talk and dispute about the Belarusian ballet, performances were revisited several times... Of course, a single person was hardly able to do a thing like this. The success, by the way, did not come alI of a sudden. In different years the ballet stage saw such stars as N. MIadzinskaya, T. Karavaeva, N. Dovydenko, A. Korzenkova, I. Didichenko, V. Davydov, R. Krasovskaya, L. Chekhovsky, Yu. Troyan, and L. Brzhozovskaya. Novel trends provided inspiration for the orchestra's musicians. It turned out that the theater employs scene wizards willing to materialize conceptions of gifted artists and dressers.
The Belarusian ballet company has toured more than 30 countries, but even most prestigious tours, choreographic festivals, and contests do not prevent it from offering its products to the domestic audience -during one theatrical season the company gives up to 150 performances in Minsk.
Source: "Памятныя манеты Нацыянальнага банка Республiкi Беларусь 1996 - 2006" (Commemorative coins of the National bank of the Republic of Belarus 1996 – 2006), Minsk 2008
Datum : 28.12.2005
Metall : Au 999
Durchmesser, mm : 13.92
Feingewicht, g : 1.24
Auflage, St. : 25000
Prägeanstalt :
B.H. Mayer's Kunstprageanstalt GmbH, Karlsfeld, Germany
Design :
S. Zaskjewitch; Michael Schulze (Deutschland)



Ebay-Statistik
(Preise in Euro):
Jahr

Anzahl

Durch
schnitt

Min.

Max.

2006

14

40,99

24,50

57,82

2007

27

38,88

20,50

76,00

2008

22

44,55

30,00

69,54

2009

21

44,18

33,00

69,00

2010

14

47,19

35,64

62,99

2011

1

59,15

59,15

59,15