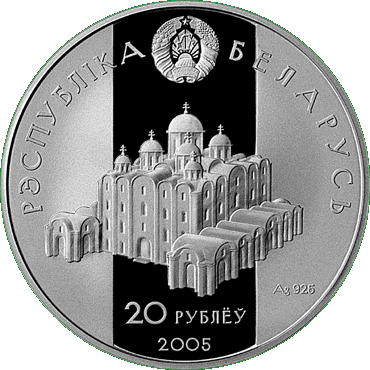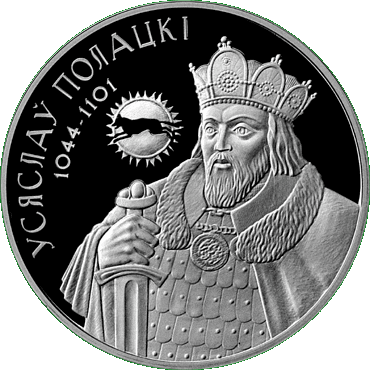 Bildquelle: www.nbrb.by
Die Übersetzung ins Deutsche ist in Vorbereitung
USYASLAU, THE PRINCE OF POLATSK
Usyaslau, the son of the Polatsk prince Brachyslau,was born around 1029 and was the prince of Polatsk forover 50 years (1044-1101). Usyaslau was upholding political independence of his city and was a renowned defender of the Polatsk land, which was, in fact, an independent state in the Belarusian basin of the Dzvina and partially the upper Dnieper. During his reign, the Polatsk-Minsk Principality was at the peak of its might.
The prince was promoting the spread of Christianity. In the mid-llth century, he built in the Polatsk stronghold the stately Cathedral of St. Sophia, the most ancient brick-work building in Belarus, which became a symbol of sovereignty of the Polatsk-Minsk Principality. At the confluence of the Nyamiga and Svislach rivers, Usyaslau founded a powerful fortress of Mensk (Minsk). In 1067, the famous battle on the Nyamiga river was fought following which the three princes — the Yaraslavichy brothers - traitorously captured him during peace talks near Orsha and put him in jail in Kiev. One year later, he was released from prison by the revolted people and for seven months was the Grand Prince of Kiev. The Kievans were unanimously supporting him. "The Tale of Igor's Campaign" compared the Prince of Polatsk with Hors (Hurs, Khors), the pagan God of Sun, on whom "he stole a march in the appearance of a wolf". During campaign against Izyaslau Yaraslavich he abandoned the Kievan troops and returned to Polatsk; however, he had to leave it. In 1071, Usyaslau once again became the prince of Polatsk. He was fighting Uladzimir Manamakh who kept on raiding the Polatsk land.
For his determination, intelligence, quickness, and energy, Usyaslau was nicknamed Charadzey (the Sorcerer). A legend made it into the Primary Chronicles according to which he was allegedly born by sorcery. In the epics of the Kiev cycle he was mentioned as "Volkh Usyaslavich". He had six sons who ruled in separate districts but Polatsk continued to be regarded as the principal town of the state. His activities were influencing not only the development of the Polatsk Princedom, but the history of the entire Kievan Rus of the time.
G.V. Shtyhau
Doctor of History, Professor,
Laureate of the State Prize of the Republic of Belarus
Text from the official flyer "USYASLAU, THE PRINCE OF POLATSK" of the National Bank of the Republic of Belarus
Datum : 28.12.2005
Metall : Ag 925
Durchmesser, mm : 38.61
Feingewicht, g : 33.62
Auflage, St. : 5000
Prägeanstalt :
CJSC "Lithuanian Mint", Vilnius, Lithuania
Design :
S. Zaskjewitch





Ebay-Statistik
(Preise in Euro):
Jahr

Anzahl

Durch
schnitt

Min.

Max.

2006

32

28,25

19,64

40,48

2007

19

27,04

3,94

37,92

2008

12

30,83

19,50

39,00

2009

7

28,71

26,00

30,00

2010

5

30,60

30,00

32,00

2011

0

0,00

0,00

0,00