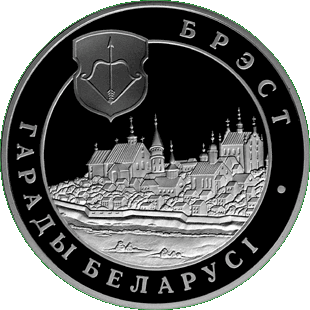 Bildquelle: www.nbrb.by
Die Übersetzung ins Deutsche ist in Vorbereitung
BREST
Brest (chronicles names Berastye and Byarestye) was first mentioned in the list of events dating to 1019 in the well-known chronicle "Tale of Bygone Years." Beginning in the 18th century, it was better known as Brest-Litovsk and later, right up to 1939, as Brest-on-Bug. Many experts believe that the ancient settlement vanished without trace when the Brest citadel and its three forts (1830-1842) were built. However, in 1968 scientists found on a river island of the Western Bug a real masterpiece of archaeology unparalleled in Europe: beneath thick strata which accumulated during later centuries three streets with 224 buildings dating to the 12th-13th centuries survived almost intact. These formed the basis of the display of the original museum "Byarestye." Of course, revealing one mystery did not put scientists' mind at rest. There are many questions to ask, such as is it a summer hamlet of the Byarestye inhabitants or a residential suburb of craftsmen? The settlement does not look very much like a downtown citadel with a tower, as evidenced by the chronicles, similar to that of the Kamyanets pillar...
Early history rarely takes note of the town because significant events did not occur there very often, while the Middle Ages brought Brest the status of a real center. For example, as early as 1390 it was the first among Belarusian towns to enjoy the Magdeburg Law, an autonomous municipal administration. Some time later it acquired its beautiful and symbolic coat of arms - in a blue field, a silver bow with a string in tension and an upward-aiming arrow. It was in Brest that the king Jogaila and grand duke Vytautas held a council to launch a joint campaign against the crusaders of the Teutonic Order which resulted in a victorious battle of Grunwald in 1410.
It is not out of place to remind that the first printing-works in Belarus began functioning in Brest in the mid-16th century under the patronage of the famous magnate Mikalaj Radziwill the Black. In the second half of that century the Brest mint (the first state mint) was considered to be one of the largest in the Polish-Lithuanian Commonwealth (the Union of the Grand Duchy of Lithuania and the Kingdom of Poland) coinage. From the mid-19th century the fate of the town is closely interwoven with the history of the Brest fortress. Brest had even to move three kilometers away from its birth place and therefore there are no ancient architectural monuments in the town (even foundations have not survived). We know about many of them only by images in the old engravings.
Nevertheless, modern Brest is a comfortable and beautiful town that has a unique appearance, developed infrastructure, advanced industry, and numerous cultural establishments. However, its talented and industrious citizens are the greatest pride of the town.
Text from the official flyer "BREST" of the National Bank of the Republic of Belarus
Datum : 08.12.2005
Metall : Cu/Ni
Durchmesser, mm : 33.00
Feingewicht, g : 14.35
Auflage, St. : 2000
Prägeanstalt :
RSE "The Kazakhstan mint of NB RK", Ust–Kamenogorsk, Kazakhstan
Design :
S. Zaskjewitch



Ebay-Statistik
(Preise in Euro):
Jahr

Anzahl

Durch
schnitt

Min.

Max.

2006

0

0,00

0,00

0,00

2007

0

0,00

0,00

0,00

2008

0

0,00

0,00

0,00

2009

0

0,00

0,00

0,00

2010

3

29,33

22,00

35,00

2011

0

0,00

0,00

0,00