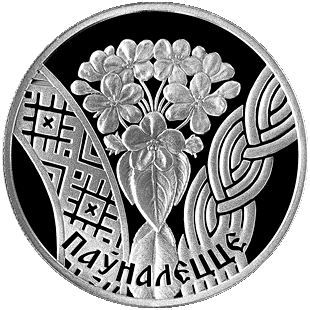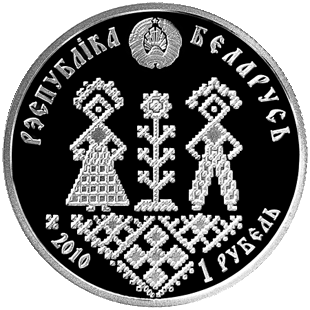 Source of image: www.nbrb.by
THE AGE OF MAJORITY
In traditional culture and folk pedagogy of the Belarusians, Russians, and Poles childhood and adolescence were divided into several age stages each of them consistent with the changes in a child's biological development, children's certain family and public commitments, and attitude towards their parents, relatives by marriage, and villagers.
The age of majority (coвершеннолетие in Russian and pelnolecie in Polish) was considered to be attained at approxi¬mately 16-17 when an individual got ready to live a full life, en¬gage in a productive work, and start a family. This event had great social significance as a new grown-up member of the labor collective and a continuator of the family line appeared. The Slavs did not preserve the initiation rite as a holistic ritual, yet the key elements of this complex altered in the system of in¬terrelated rites of passage and marriage as well as in children's and adolescents' folklore.
The rites of passage were mainly of a trial and in¬troductory nature and therefore the short period of coming of age was notable for public attention thereto. The age of majority was determined, in the first place, on physiological grounds. Prior to starting the family of their own adolescent boys and girls were to acquire all housekeeping skills, be able to do various kinds of agricultural works, and learn relevant trades and crafts. The passage into the new biological and age category of adults - registered by folk tradition - was reflected in their hairstyles. People believed that a braid was representing a girl's self in terms of beauty, will, and virginity. Clothing, its articles and items were one of the key indicators for a person's affiliation to a certain age group within the tra¬ditional society, Lads' festive and ceremonial headgear and belt preserved ritual meaning symbolizing that their wearers were single and ready for marriage while the most common lasses' headdress was a wreath.
Nowadays the age of majority in the Republic of Belarus, Russia, and Poland is 18.
T.I. KUKHARONAK
Candidate of Science (History) Employee of the State Scientific Institution "The K. Krapiva Institute of Arts, Ethnography and Folklore of the National Academy of Sciences of Belarus
Date : 03.05.2010
Metal : Cu/Ni
Diameter, mm : 32.00
Weight, g : 13.16
Mintage, St. : 4000
Minted by :
The Mint of Poland PLC., Warsaw, Poland
Design :
S.Nekrasova



Ebay-Statistic
(Prices in Euro):
Year

Count

Ave
rage

Min.

Max.

2006

0

0,00

0,00

0,00

2007

0

0,00

0,00

0,00

2008

0

0,00

0,00

0,00

2009

0

0,00

0,00

0,00

2010

5

27,01

10,05

40,00

2011

1

10,12

10,12

10,12