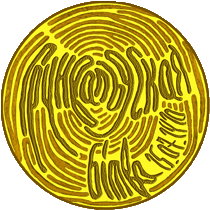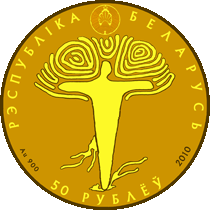 Source of image: www.nbrb.by
THE BATTLE OF GRUNWALD
One of the greatest battles in the Middle Ages which proved decisive in the fighting that went down in history as the Great War (1409-1411) took place on July 15, 1410 near Grunwald village (nowadays Poland's province of Olsztyn). The Grand Duchy of Lithuania's drive to liberate and recapture its territo¬ries that came under control of the Teutonic Order led to the outbreak of hostilities. The Grand Duchy of Lithuania ("the GDL") was waging this war in alliance with Poland.
The army of the Teutonic Order led by Ulrich von Jungingen, the Grand Master, included German, French, English, and other Western European knights and mercenaries and numbered 15,000-20,000 men in all. The allies fielded 30,000-40,000 troops under the command of King Uladzislau 11 Jagaila of Poland and his cousin Grand Duke Vitaut of Lithuania. Regiments of warriors that came from the areas of present-day Belarus - Lida, Polatsk, Vitebsk, Navagrudak, Brest, Vaukavysk, Mstislau, etc. -formed the backbone of the GDL forces.
The battle began on the plain between three villages: Grunwald, Tannenberg (nowadays Stebark), and Ludwigsdorf (nowadays Ludwigowo). The Poles, the Belarusians, the Lithuanians, the Ukrainians, the Russians, and the Tatars fought shoulder to shoulder as one man against the Teutonic knights. After several unsuccessful assaults and a six hours' bloody battle the allied Polish-Lithuanian troops won a victory - the Teutonic army was routed and Ulrich von Jungingen, the Grand Master, was killed - which eventually deter¬mined the outcome of the warfare on the whole.
The Battle of Grunwald checked German aggression on Slavic lands. Henceforth, the Order of the Teutonic Knights went into decline. The crusaders surrendered a number of occupied territories, paid reparations, and pledged that they would not prevent Poland and the GDL from free trading.
The Battle of Grunwald set an example of valor and military cooperation of the nations in their struggle for freedom.
Date : 07.04.2010
Metal : Au 900
Diameter, mm : 22.00
Weight, g : 7.78
Mintage, St. : 500
Minted by :
CJSC "Lithuanian Mint", Vilnius, Lithuania
Design :
O.Novoselova




Ebay-Statistic
(Prices in Euro):
Year

Count

Ave
rage

Min.

Max.

2006

0

0,00

0,00

0,00

2007

0

0,00

0,00

0,00

2008

0

0,00

0,00

0,00

2009

0

0,00

0,00

0,00

2010

1

452,00

452,00

452,00

2011

0

0,00

0,00

0,00