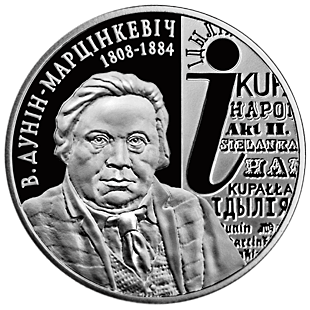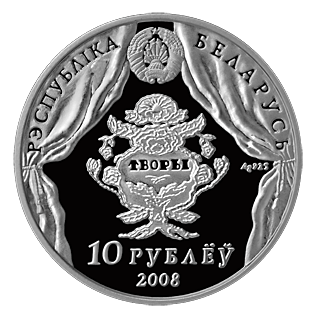 Source of image: www.nbrb.by
Vincent Dunin-Martsynkevich
February 2008 is the bicentenary of the birth of Vincent Dunin-Martsynkevich – a well-known Belarusian poet, dramatist, and theatre figure. He was one of the first writers who worked in the field of the new Belarusian written word and by his activity promoted the idea of the existence of literature in the vernacular, determining thereby, in large measure, its democratic nature and the direction of its further development. Actually, it was he who laid a firm foundation for the national literature of new times.
Vincent Dunin-Martsynkevich was born on February 4, 1808, in Paniushkavichi country estate of the Babruisk district. His parents died early and he was raised by his maternal uncle Stanislau Bogush-Sestrantsevich, the Archbishop of Magiliou. The young man graduated from Babruisk district school and after that continued his education in Sankt Petersburg. However, due to ill health, he quiet education and served as a private bureau secretary in Vilnya.
In 1831, Dunin-Martsynkevich got married and moved to Minsk, where he took a job with the Minsk consistory as a civil servant. In 1840, he bought Lyutsinka country estate near Ivyanets, took up permanent residence there, and resigned from the civil service for the rest of his life.
In the 1840s, Dunin-Martsynkevich became deeply involved in literary activity. In 1846, he wrote the libretto for "Idyll" ("Syalanka") – basically the first Belarusian opera. The language of the pans (privileged groups in the society of that time) was Polish, while the peasants spoke the Belarusian language. The author produced not just Idyll, but an idyll full of contrasts – a true-to-life depiction of the lifestyle of Belarusian serfs in the 1840s.
In his works, Dunin-Martsynkevich sentimentalises people's life. He turns to the ancient customs and rites and included Belarusian folk songs and legends in the plot of his writings. This is particularly true of epic, such poems as "Hapon" (1855) and "Travitsa Brat-Syastrytsa" (1851), and such novels in verses as "Vecharnitsy", "Kupala", and others.
His play "Pinskaya Shlyahta" ("Pinsk Gentry") (1886) marked a new stage in the writer's work. It was a stinging and scathing satire on the bureaucratic regime in tsarist Russia.
Literary and social activity of Dunin-Martsynkevich became a living and fruitful tradition for many generations of Belarusian writers. Nowadays it continues to serve as a model of self-sacrificing dedication to the spiritual revival of our homeland.
Text from the official flyer "Vincent Dunin-Martsynkevich" of the National Bank of the Republic of Belarus
Date : 04.02.2008
Metal : Ag 925
Diameter, mm : 32.00
Weight, g : 15.55
Mintage, St. : 3000
Minted by :
The Mint of Poland PLC., Warsaw, Poland
Design :
S.Zaskevich




Ebay-Statistic
(Prices in Euro):
Year

Count

Ave
rage

Min.

Max.

2006

0

0,00

0,00

0,00

2007

0

0,00

0,00

0,00

2008

14

23,60

8,52

45,55

2009

5

18,82

16,05

22,50

2010

4

21,91

19,00

25,15

2011

1

21,02

21,02

21,02