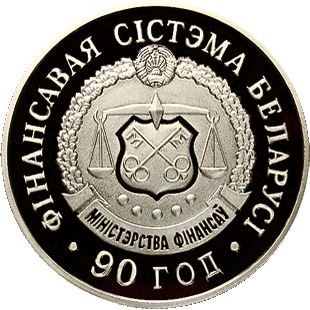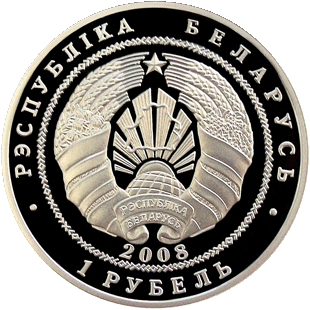 Source of image: www.nbrb.by
Belarus' Financial System, The 90th Anniversary
In 2009, the Republic of Belarus marks the 90th anniversary of its financial system. A financial system is, in a broad sense, the totality of an interaction between all public financial institutions, including the credit and banking system.
The coordinator of the modern Belarusian financial system is, by right, the Ministry of Finance which traces its 90-year history back to 1919 when the Provisional Workers' and Peas¬ants' Government of Belarus resolved to establish the Finance Commissariat of the republic. In February of that year it was reorganized, under the resolution of the First All-Byelorussian Congress of Soviets, into the People's Finance Commissariat of the Byelorussian Soviet Socialist Republic.
Given the historic role and importance of the Ministry of Finance in ensuring life-sustaining activities of the state, the President of the Re public of Belarus took a decision to institute a heraldic device of the financial authorities of the Republic of Belarus. The insignia reflect, in a laconic and explicit manner, the traditions and significance of the Belarusian financial authorities.
For example, the shield symbolizes the Finance Ministry's contribution to the defense of sovereignty and economic security of the state, while the keys, a pair of scales, and coins stand for the accumulation, storage, and prudent and fair distribution of financial resources, as well as sustain ability of the financial system. The crossed keys, the centerpiece of the emblem of the treasury of the Grand Duchy of Lithuania which included the lands of present-day Belarus, are a tribute to the centuries-old history of the financial institutions in the country.
To celebrate the 90th anniversary of the financial system, the National Bank of the Republic of Belarus issued commemo¬rative coins representing the armorial bearing of the financial authorities. This is yet another indication of the essential role of the Ministry of Finance in the making of Belarusian statehood as well as of the impact of the financial system as a whole on the improvement in the well-being of the Belarusian people.
Date : 24.12.2008
Metal : Cu/Ni
Diameter, mm : 32.00
Weight, g : 13.16
Mintage, St. : 3000
Minted by :
The Mint of Poland PLC., Warsaw, Poland
Design :
S.Nekrasova



Ebay-Statistic
(Prices in Euro):
Year

Count

Ave
rage

Min.

Max.

2006

0

0,00

0,00

0,00

2007

0

0,00

0,00

0,00

2008

0

0,00

0,00

0,00

2009

20

14,35

8,00

20,00

2010

11

11,30

9,90

18,00

2011

0

0,00

0,00

0,00