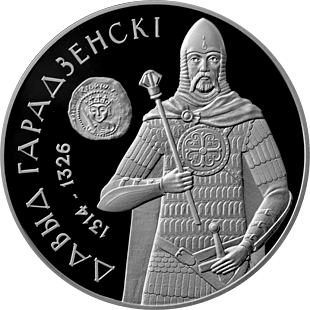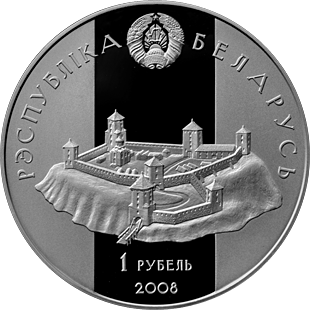 Bildquelle: www.nbrb.by
Die Übersetzung ins Deutsche ist in Vorbereitung
DAVYD OF GARADZEN
Davyd of Garadzen (ca. 1270-1326) was the son of Prince Daumont of Pskou who came from the land of present-day Belarus and was christened Timotheos.
In 1299, Davyd assumed command of a garrison unit in the castle at Grodna — Garadzen in days of old — and defended the stronghold against the Crusades of 1305-06 as well as on two occasions in 1311. His skillful fighting earned him the position of castellan of Grodna, i.e. the commandant of the castle and surrounding area.
He made his mark as a talented military leader when crusaders laid siege to Novagarodak in 1314. The timely arrival of Grodna troops to the surrounded garrison's rescue made the knights lift the siege and retreat, suffering heavy losses, to Prussia. In 1319, Davyd led his regiment to a striking victory in the crusaders' territory. Circa 1320, his marriage to the daughter of the Grand Duke of Lithuania gave him the title of 'Duke' and the right to feudal tenancy.
Twice in the year 1322, Grodna warriors led by Davyd came to the aid of Pskou which was fighting against the knights of the Livonian Order. The following year saw his invasion of Mazovia, their ally.
In 1326, Davyd who was in charge of the Grodna detachment raided the German lands and then successfully fought in Prussia and Mazovia. This was his last campaign. On the way home he was treacherously assassinated by a Mazovian knight bribed by the Germans.
Military feats of Davyd of Garadzen played a significant role in checking German aggression against Eastern Europe and promoted the strengthening of statehood of the Belarusian lands.
G.V. Laskavy
Chief Research Assistant
Institute of History
National Academy of Sciences of Belarus
Datum : 19.12.2008
Metall : Cu/Ni
Durchmesser, mm : 33.00
Feingewicht, g : 15.50
Auflage, St. : 5000
Prägeanstalt :
CJSC "Lithuanian Mint", Vilnius, Lithuania
Design :
S. Zaskjewitch



Ebay-Statistik
(Preise in Euro):
Jahr

Anzahl

Durch
schnitt

Min.

Max.

2006

0

0,00

0,00

0,00

2007

0

0,00

0,00

0,00

2008

0

0,00

0,00

0,00

2009

21

12,31

1,00

21,50

2010

26

9,86

5,00

34,00

2011

4

9,37

8,35

11,15